May 2021
We have had a revamp! Welcome to the new look Quality Care of Cheadle. What do you think?
You can rest assured that Quality Care of Cheadle is not changing it's ethos, we still remain committed to a better quality of care for all of our service users and their families and we are fully person centred in everything that we do.
January 2021
At the end of December last year, we were given the nod that vaccinations for home care workers were imminent. This excited us a lot and we are really pleased that now, all staff have been offered their first dose of the COVID-19 vaccination with appointments booked for follow up doses! Natalie, made a short video diary of her vaccination experience and you can watch this on our social media channels here:
https://fb.watch/3fXZ1JvCJC/
https://twitter.com/QualityCareOC/status/1351625914233270276?s=20 or
November 2020
The annual Stockport Star Awards ceremony was due to be held in early March this year, just as the coronavirus pandemic was starting to take hold. Stockport CCG and organisers took the difficult decision to postpone the ceremony until later in the year when it could be held safely.
The awards ceremony was then held virtually this November and we are so pleased to announce that Quality Care of Cheadle has been awarded Best Home Care Provider and David has been awarded Best Home Care Worker. David and Quality Care of Cheadle received some amazing nominations from our service users and their families and we are incredibly grateful for them and proud we can provide a service that people love.
We need to thank every single member of staff for their input, without them we couldn't be what we really want to be. They work so hard and this year in particular, they have worked so selflessly and tirelessly and deserve this achievement. Thank you.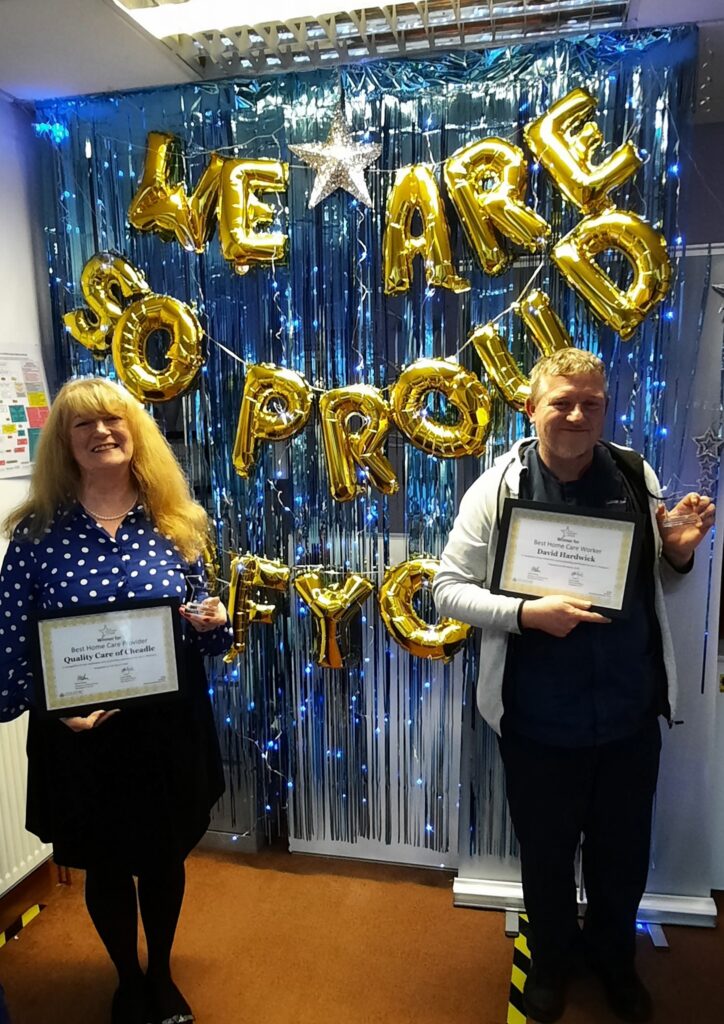 Bridie our registered manager and David with their awards
Coronavirus Update
We would like to reassure everyone that our staff are all very well trained in infection control and will be following the strict guidelines that we set. We understand that the situation is a constantly changing landscape and invite you to follow our Facebook page to keep up to date with further developments. Below is the latest letter that has been sent to service users and their families.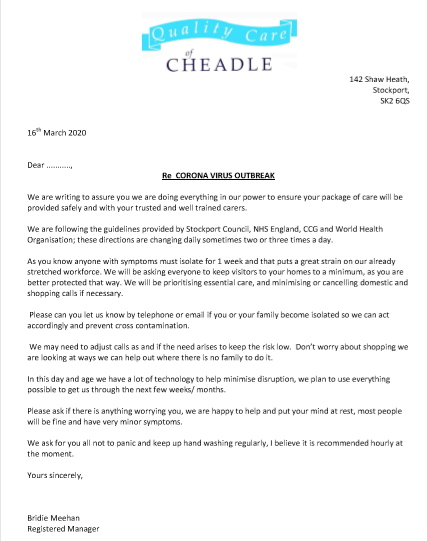 January 2020
It's almost time for our next Social Cinema event. There will be many Quality Care of Cheadle staff there helping out Socially Yours.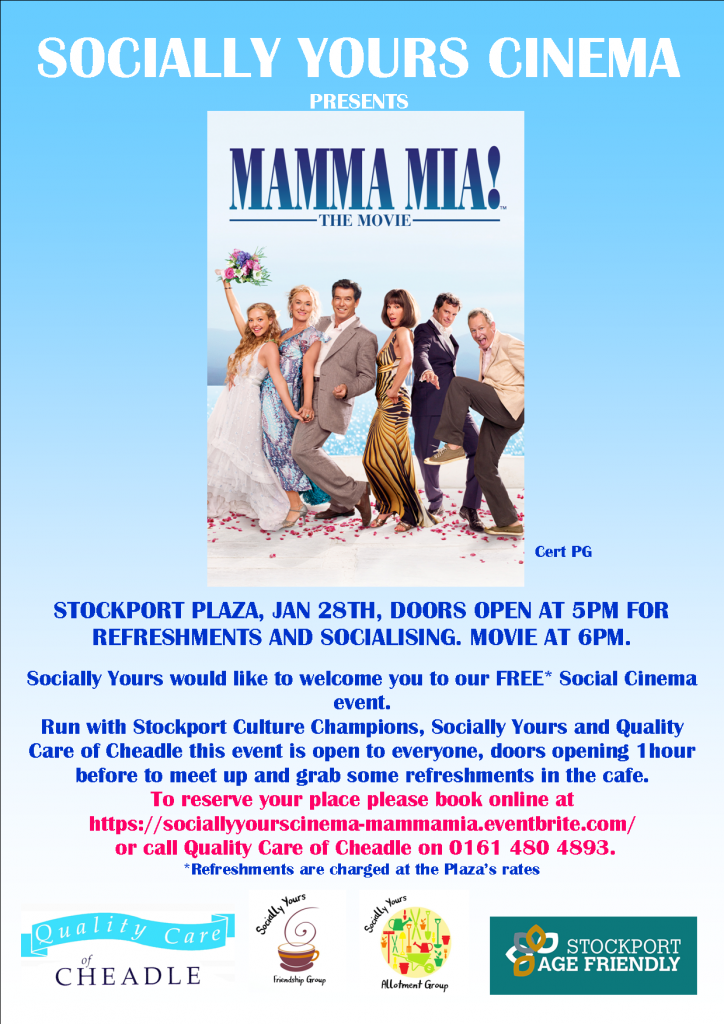 December 2019
On Dec 17th we had our annual Christmas party and what a fantastic day it was! We had live music from Cobalt Tales who really did get the party started, we had a visit from First Steps Preschool who came along and gave out handmade Christmas cards to our guests and sang some Christmas songs for us. We also had a very special guest, Stockport Mayor Cllr Laura Booth. We wish to thank everyone who made this day so memorable and if you attended, we hope you found it as much fun as we did!


December 2019
Join us for our FREE Christmas party on December 17th 1pm – 3pm. We will have hot food, a raffle, music and dancing and the possibility of a very special Christmas guest! Please give us a call on 0161 480 4893 to reserve your place.
Cheadle Hulme Ladybridge Cricket Club,
Meadway Raod,
Cheadle Hulme
SK8 5NZ
Panto Visit
We recently joined with Socially Yours and had a group visit to this years
Stockport Plaza Panto, Jack and the Beanstalk. It was a fabulous afternoon.
Coming soon in October

Click Here Socially Yours Cinema
September 2019
Date For The Diary
We welcome you to join us for the Socially Yours Community Allotment Open Day on Sept 29th, 1pm-4pm at Plot 41, Heathside Park Allotments, Heathside Park Rd, Cheadle Heath. This year we will be hosting a Macmillan Coffee Morning (or afternoon!) We would like to introduce you to the plot and to what goes on there. It promises to be a fantastic day. We look forward to seeing you.

Great Manchester Run 2019
May 2019
Congratulations to Phil, Bridie and Natalie for completing the Great Manchester Run this weekend! Bridie was called away on a work related emergency so Natalie stepped in last minute. Not to let her sponsors down, Bridie completed 10k in Turkey! We are so proud of everyone's achievements for a great cause – Alzheimer's Society. Well done Team QC.
You can still sponsor our runners here; https://www.justgiving.com/fundraising/Philip-Meehan4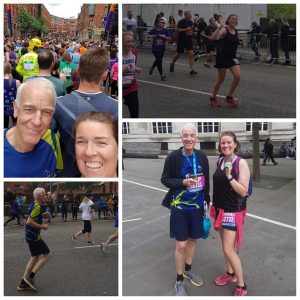 Star Award Winners
Bridie and Barbara are award winners
The Stockport Star Awards are hosted by Stockport Together and NHS Stockport CCG (Clinical Commissioning Group) and are open to anyone working in Stockport's care homes, home care organisations and learning disability tenancies. Judged independently, we are so proud to announce our Registered Manager Bridie Meehan was awarded Most Inspirational Leader. In her nomination it was quoted 'something completely out of her comfort zone yet her dedication to the cause has been second to none.' whilst talking about the Socially Yours Allotment project she spearheads, although this is Bridie to a tee. She tackles everything head-on and with full determination to succeed.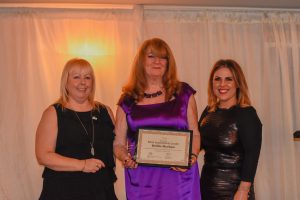 Barbara Peet was recognised at the awards ceremony, recieving a Judges Highly Commended Award for her long term dedication and service at Quality Care of Cheadle and in the home care sector. Congratulations to Barbara.
Dara Burgess was again shortlisted as a finalist for best Home Care Worker for the second year running. Congratulations to Dara for all your continuing efforts and hard work.
Quality Care of Cheadle were also finalists in the Best Home Care Provider category and we are so proud to have been shortlisted against such strong competition in the borough.
Stockport Star Awards 2019 – Finalists Announced
January 2019
We are proud to announce that Quality Care of Cheadle have again been shortlisted in three categories at the 2019 Stockport Star Awards. The categories and finalists are as follows;
Best Home Care Worker – Dara Burgess
Most Inspirational Leader – Bridie Meehan
Best Home Care Provider – Quality Care of Cheadle.
We wish all finalists the very best of luck but of course they are winners to us already!
Happy New Year
January 2019
Happy New Year to all our service users, families, friends and staff. We wish you all the very best for 2019.
Quality Care of Cheadle/Socially Yours Christmas Party
December 2018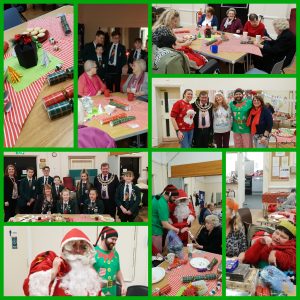 We hosted the annual Quality Care of Cheadle/Socially Yours Christmas party and it was an amazing success!
We are so grateful to all the visitors and volunteers that made it such a wonderful day. We were joined by Stockport Mayor, Councillor Walter Brett who spoke with every person in the room and posed for photographs, students from Stockport Academy came along, chatted to everyone and delivered hampers made up with donations given to school for our guests and of course we had a special appearance from Santa.
It was a joy to see the smiles on so many faces, ours included and we hope that you all had a wonderful Christmas and New year.
The Big Broth
October 29th – November 2nd 2018
This week Quality Care of Cheadle and Socially Yours are providing soup to fund raise for Centrepoint, helping homeless young people. If you would like some soup then please pop into the office, it will be available for a small donation or you could take part in our sweepstake.
Stockport Flu Vaccination Pledge
October 2018
Influenza, most commonly known as flu, is a serious disease that can lead to hospitalisation and sometimes even death. Every flu season is different, and the flu infection can affect people differently. Even healthy people can get very sick and spread it to others.
The best way to prevent the flu is to get vaccinated. This organisation has pledged to protect their staff and your loved ones from getting influenza this season.
Individuals eligible for flu vaccination are based on the advice of the Joint Committee on Vaccination and Immunisation with the programme aiming to provide direct protection to those who are at higher risk of flu associated morbidity and mortality. This includes older people, pregnant women, and those with certain underlying medical conditions.
Flu vaccines cause antibodies to develop in the body about two weeks after vaccination. These antibodies provide protection against infection with the viruses that are in the vaccine. Join Quality Care of Cheadle in taking the pledge. Encourage your family and friends to get the flu vaccine. When more people get vaccinated, less flu can spread to your loved ones, the staff that care for them and the community in general.
STOCKPORT STAR AWARDS RETURN
October 2018
We welcome the return of the Stockport Star awards, celebrating the best in the care industry in Stockport. There are a number of different categories for nominations in the Home Care sector. If you would like to nominate someone from Quality Care of Cheadle you can get in touch with us and we can provide you with nomination forms. The categories are as follows;
Best Home Care Provider – this relates to the company providing care. What have they done different? How has the client received better care as a result of what they do?
Best Home Care Worker – Do you know a home care worker that has gone above and beyond? Have they contributed to the well-being of a client? Do they work well individually or as part of a team making everything count for the individual?
Excellence in Quality Award – Again, this relates to the organisation providing care. Have they demonstrated quality initiatives to ensure a better quality of care for clients and staff?
Most Inspirational Leader – Have they created conditions in which innovation thrives, has led to a change in staff culture, motivating staff to be the best they can be? Have they empowered others to be confident and competent, do they champion quality?
Overall Stockport Star – This person, group or organisation will be chosen from the nominations received in the other categories
Stockport's Hidden Star – This award is for those staff who are not necessarily customer facing but provide an invaluable contribution to the day to day running of caring for people in the care sector.
Quality Care of Cheadle is turning GREEN
It's the news we've been waiting for and can finally announce…
We have worked so hard to gain our Good rating back from the Care Quality Commission (CQC) and after a recent full inspection we are pleased to announce that we have received their Good rating. Our huge thanks go to our team of amazing care workers and everyone behind the scenes working together to make this happen. As always we strive to be the best in providing a real Quality service.
"They don't clock watch even though they're busy and that's important so people don't feel rushed."
"I've got a care plan but I don't bother with it, the care workers look at it but they always ask me."
"They're excellent, very professional. I think they are absolutely brilliant."
————————————————————————————————————————————————————
STOCKPORT STAR AWARDS
We are pleased to announce two members of Quality Care staff were shortlisted as finalists in the Stockport Star Awards 2018. Congratulations to Dara Burgess and Anna Rogers who made it through to the awards dinner which saw Anna presented the Best Support Worker award by Annabel Tiffin from BBC Northwest Tonight at the glitzy ceremony. Well done Anna, all of us at Quality Care of Cheadle are so proud of you and we are over the moon the hard work of our amazing staff is being recognised.
It is the second year running Quality Care staff have won the award. In 2017 it was won by Spencer Jones and we had 3 shortlisted finalists. Socially Yours also won an award for Most Innovative Practice.